Not Just for Kids! We provide Adult ADHD Testing.
Are you struggling to keep up with responsibilities, constantly getting off track, having trouble following through with things? Wondering if you might have ADHD? For many adults, proper methods of diagnosing and treating ADHD symptoms simply weren't available when they were in school. Others just muddled through school and found ways to deal with it (or not deal with it). Life can be easier when ADHD is properly diagnosed and treated.
Our understanding of adult ADHD (or "ADD") has improved greatly over time.
You most likely had the ability to mask and cope with your symptoms during childhood (or had very helpful parents!), enough so that you made it through high school, college, and sometimes even graduate school without a diagnosis or treatment. But those accomplishments often come at a cost.
You probably had to put in WAY MORE EFFORT than your peers to accomplish the same amount of work.
You most likely struggled with SELF-ESTEEM issues and never felt good enough. 
Let's be clear though, adult ADD / ADHD does not begin in adulthood.
This is a persistent issue that begins during childhood. Many who don't get diagnosed until they are adults are very bright people who have have gone for most of their lives without a diagnosis because they have been able to compensate.
Some fall into the category of "twice-exceptional" while others have many strengths that have helped them to cope and get by despite the underlying struggles.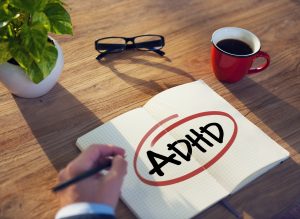 Do These ADHD Symptoms Sound Familiar?
Have you always had trouble focusing in certain circumstances?
Are you very easily distracted?
Have you been told you were an underachiever who was "not living up to your potential," or that you would "do better if you just put some effort into your work"?
Do you have trouble getting started or following through on tasks or projects?
Do you have difficulty getting priorities straight (spend too much time on less important tasks, leaving "big" tasks unfinished)?
Are you often losing things necessary for life (lost your cell phone or keys lately…)?
Is it difficult to get/stay organized (messy home, desk, car)?
Do you have trouble keeping up with paying your bills or meeting deadlines?
Do you frequently feel restless, edgy, tense, or have trouble relaxing?
Have you had relationship difficulties (partners complain that you don't listen, nag you to get things done, act more like a parent than a partner)?
Have you had trouble managing intense emotions, have quick outbursts of anger that resolve just as fast as they came on?
Are you constantly underestimating how much time it will take to complete a task or project?
If you found yourself saying, "Yep!" to most of these potential ADHD symptoms in adults, then you would benefit from a consultation in Denver or Northglenn, CO to determine if ADD/ADHD may be the culprit.
Getting the Right Adult ADHD / ADD Diagnosis: Could it be ADHD?
If you suspect that you have ADD / ADHD, we strongly suggest a formal ADHD assessment. In all likelihood, you have been dealing with these symptoms for a very long time. Not having a proper diagnosis or treatment has likely taken a toll, and many adults who do have ADHD develop other issues as a result. It is not unusual to have depression, anxiety, low self-esteem, or even problems with substance abuse when ADHD goes undetected.
In our adult ADHD testing, we often find that people have above average to gifted IQ (intelligence) scores, and this helps it all make sense. You've made it this far because you are bright and capable, NOT because you are lazy and unmotivated. Many adults we test are highly motivated, yet struggle to achieve their goals.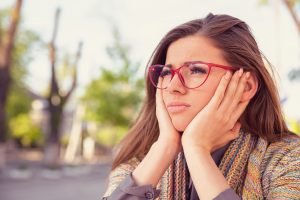 Something is getting in your way!
It's important to mention that many adults are also incorrectly labeled with adult ADHD, when the symptoms they are having are actually a sign of something else. Our assessment process looks at the whole picture, so that we can help you get on the right path to improvement.
Quite often, self-report questionnaires are the main method for diagnosing ADD when you talk to your primary care physician or even to your counselor or therapist. While these are helpful in the diagnosis of ADHD, they are not sufficient in ruling out other possible causes for your struggles. ADHD medications, neurofeedback, and coaching can be costly – so it's important that you are getting the right adult ADD treatment for your symptoms.
Adult ADHD Testing Process
Our highly skilled psychologists in Denver and Northglenn can help to clarify the diagnosis and recommend how best to move forward with treatment.
Comprehensive Adult ADHD Testing Includes
A detailed interview reviewing developmental history, social and emotional issues, medical history, and academic performance.
Formal testing to assess cognitive abilities, learning style, and objective measures of attention, concentration, and processing speed.
Social, emotional, and behavioral assessments.
Self and observer (partner/spouse/parent) questionnaires and/or interviews.
When needed, we also assess for learning disabilities, memory problems, visual processing problems, and other issues that might be contributing to your struggles.
When the ADHD assessment has been completed, our psychologist will meet with you for a detailed feedback session to discuss results and recommendations and create a plan for moving forward.
Life does not have to be so difficult!
Reach out to us today to schedule a consultation. We will figure this out and get you headed in the right direction.
Adult ADHD / ADD Testing in Denver and Broomfield, CO
Our psychologists at PEAK Exceptional Services provide ADHD testing for adults in Denver and Broomfield, CO. We also serve  Thornton, Westminster, Erie, Boulder, and the surrounding Denver area.
Don't Procrastinate On this One!
Dr. Terri Lucero, the Executive Director at PEAK, is happy to speak with you to ensure that all of your questions about adult ADHD Testing are answered. Here are three ways to connect with her:
Schedule an Intake Interview, OR a Free 20-Minute Phone Consultation, by clicking the button below.
Call Dr. Lucero at 720-377-3250, ext. 2 to discuss your questions about the assessment process.
Send Dr. Lucero an email with your questions, or with a request to be contacted, and she'll get back to you within 24-48 hours. **Email is generally the best way to reach Dr. Lucero*